Murcia Car Hire
Murcia Tourist Information
Murciacar.com is a website dedicated to tourism in Murcia where you'll get the best prices for car hire in Murcia and in the San Javier airport, we compare car rental prices for you to get the best price.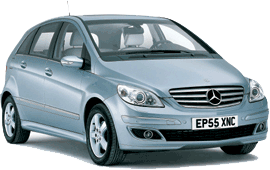 If your destination is Murcia Airport, it's situated 47 Km. way from the capital, so hiring a car is a more than recommendable option. San Javier airport offers numerous services amongst which we should mention its parking, shops, restaurants, as well as several car hire companies (Avis, Europcar, Goldcar, Centauro, Solmar,...). For more information, do not hesitate in visiting our guide on Murcia airport.
Murcia is a very popular tourist destination all year round, for its location between Andalusia and Valencia, near Alicante, and for its typical Mediterranean climate and warm water, highlighting its clean beaches along the whole coast of San Javier or Lorca, being an ideal destination to enjoy accompanied by friends or family.
Murcia offers plenty of tourist attractions we must visit, specially if we have our own vehicle; to discover more about what to do and where to go, check out our Murcia Guide, which is updated frequently.
From our website you can hire a Mercedes Vito 9-seater if you're looking for space and comfort, or a cheap car rental if you prefer not to spend too much. We have all the options for your transport in Murcia so you can enjoy all the freedom of movement you need.
We hope you thoroughly enjoy Murcia and this website from where we'll always do our best to offer the best prices for the cheapest car hire in Murcia.
We hope you enjoy your visit to Murcia and to this website where we try to offer always the cheapest prices for car hire in Murcia.